For this week's Makeover Monday challenge we have quite a few things going on, including a live Makeover Monday session at the London Tableau User Group.
The topic for this week is confirmed Malaria cases in Zambia's Southern Province with a dashboard showing simulated data (due to data privacy concerns if we were to use actual patient data). This data and the visualization are part of PATH's Visualize No Malaria project, which supports the Zambian Ministry of Health in their efforts to eradicate malaria from the country by 2021.
The project is run by PATH with the help of volunteers and a number of private sector organisations from the data and tech sector and you can find out more about the project on the Visualize No Malaria website.
Let's first look at the original visualization: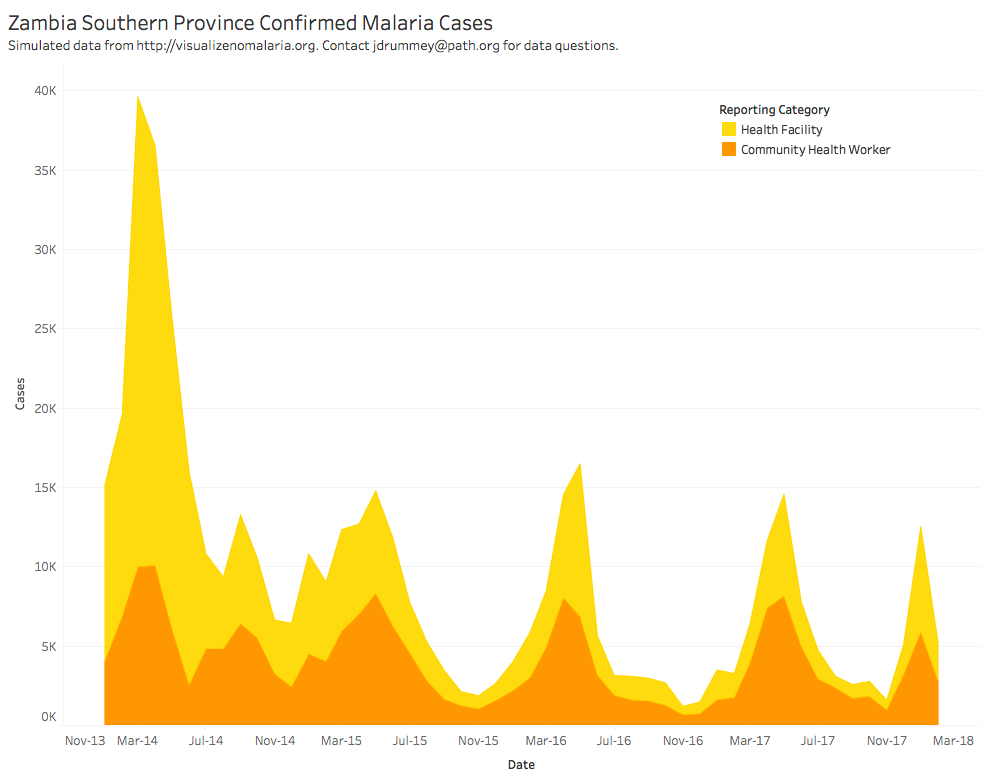 What works well:
The chart is nice and simple, uncluttered and easy to read
It shows an interesting cyclical pattern, which will draw the attention of the audience
The colors are distinct and easy to follow
The title is clear
The subtitle is an important disclaimer to ensure no one assumes this data to be actual patient data
What could be improved:
Area charts make it difficult to see the actual pattern of the top area, in this case the yellow 'Health Facility' area, because its shape depends on the orange, 'Community Health Worker' pattern.
At first glance I don't know whether these areas are definitely stacked on top of each other to sum up to a total value or whether the yellow could be 'behind' the orange area and also start at zero. I can only determine this by interacting with the data and hovering over individual data points
It would be helpful to include the timeframe of the data in the title
A description of the data, while provided to us (and shared on data.world) would be great to have included in the data
What I did:
I felt there was a good opportunity to bring more of a story into the data visualization. I know the original is part of a wider dashboard with information provided on the website, so I wanted to bring some of that information into the viz
Adding different charts to show seasonality and providing a filter for the location of the facility as well as who detected the case (community worker or health facility) gives users flexibility to explore and a few different ways to look at the data.
I added a map for context to show where in Africa Zambia is located as I am pretty sure that many people won't be so sure, so this might be helpful
To explore the interactive viz, just click on the image: